Welcome
to East Texas Birding
---
East Texas Birding was made for anyone who enjoys the wonders of nature in East Texas, especially birds. We have a lot of information about birding in East Texas (birdwatching, if you are "old school") including an ID Guide to East Texas Birds. Visitors will find a lot of information about birds and birding in East Texas. The ID Guide to Birds of East Texas is rather basic at the moment but we are adding to it regularly.
---
The original focus was on birding in East Texas, as we are birders (birdwatchers) and are particularly interested in observing and photographing East Texas birds. The East Texas Bird ID page is our most popular section.
---
Nature Photography Workshops
You will find a lot of photography basics that are geared towards the inexperienced photographer as well as information on Nature Photography Workshops in East Texas. These workshops range from an introduction to digital cameras & photography to more advanced courses on bird & nature photography.  
---
Check the Event Calendar and watch for birding events: field trips, birding group meetings, photography workshops, etc. We also list other nature-related events.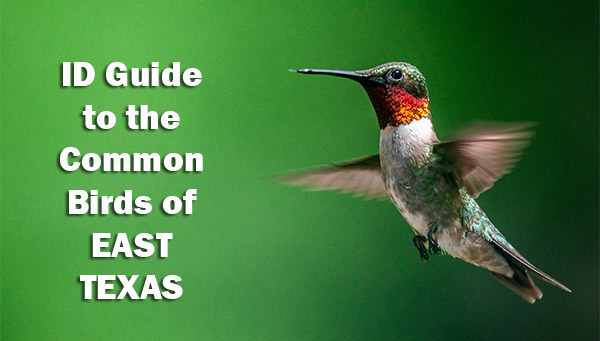 East Texas Bird ID Quizzes
We will be adding more those these East Texas Bird Identification Quizzes. Since the migration is just starting, the next one will be about migrating birds. Then, who knows what might be next. If you have any that you would like us to make, use the Contact Us page to send suggestions. 
Even as simple as some of these are, they can help you to learn to ID our East Texas Birds. Take a look at our Guide to the Common Birds of East Texas.  
East Texas Bird Identification Quiz
This is a simple quiz for identifying East Texas birds. We will be adding more of these and there will be some that will be challenging. Share this with your friends.

If you want a quiz on a particular group/type of birds, tell us with the Contact Page.
Birding

Michael's Journal
One of the questions I am often asked is "What kind of birdseed should I use to attract...
Obviously, most of the people who are in these birding groups find joy in seeing and learning more...

Photography

Techniques

Equipment

Need to Know
Calendar
Events
May 10, 2022; Daingerfield
May 10, 2022; Tyler
June 14, 2022; Daingerfield
July 12, 2022; Daingerfield